Finding the best WordPress Hosting service can be challenging in many cases. As such, we've come up with this brief guide today to help you pick the best WordPress hosting service for your company's needs.
Of course, web hosting is one of the most vital elements for any website. Primarily, it serves as the invisible foundation of the online world, and it helps you to maintain a robust online presence for your websites. As such, in this blog, we'll be going over a brief insight into web hosting and what features you should look for from web hosting services, and we'll also compare the best WordPress hosting services to help you make the right choice overall.
What is a Web Hosting Service?
Every website you visit is hosted on a server. The server's main purpose here is to store the files that comprise the website's data
According to Wikipedia, web hosts allow individuals and organizations to make their websites accessible on the World Wide Web. There are four main types of Web Hosting services.
Shared Hosting
VPS (Virtual Private Server)
Dedicated Hosting
Managed Hosting
Each of these naturally offers its own unique pros and cons. As such, we've presented a beginner's guide below to help you understand the difference between each web hosting service.
WordPress hosting is explicitly designed to optimize WordPress websites. Fortunately, these platforms hence pay special attention to WordPress's unique technical and security requirements.
What Features To Look For In A Web Hosting Service?
By choosing a top-quality WordPress host, you can significantly improve your website's performance while also enjoying many additional advantages. Perhaps the most important of these is the TTFB (Time To First Byte).
TTFB is a measurement of time, indicating your site's responsiveness towards a web server. There are three factors in particular that are among the most important in this regard:
Speed
Uptime
Customer Support
Speed
Your website's loading time has a direct impact on your business's search engine rankings and customer experience. In this regard, starting with a top-class web host is a key tip.
Uptime
Uptime is the number of hours a server is available and working, and this is usually based on your website's hosting. However, when your site is unavailable for users, this can severely impact your business. Of course, an ideal uptime is 100%; however, naturally, this isn't easy to achieve.
Support
Before opting for a web host for your WordPress website, you should first aim to ensure that the service has a good reputation for customer support. You've only got to imagine your site facing downtime for some reason and the support team not being available for instant help or taking ages to get your queries solved. What a nightmare!
The Five Best WordPress Hosting Services You Should Consider
At this point, we've highlighted the importance of choosing a good hosting provider – but which WordPress hosting service is optimal for your needs? Below is the list of the six best hand-picked WordPress hosting services that will help you to make a suitable choice for your WordPress website. So, without further ado, let's start with the list!
WP Engine is one of the best hosting solutions, leading both in providing concierge services and expert support. It has a platform full of exclusive tools that are designed to help you take your WordPress site to the next level. So, whether you're running a blog or a more complex website, you can be confident that the WP Engine tool will meet all your expectations and more.
It makes regular maintenance stress-free and easy and helps you get a high-performance site without hiring a developer. However, moving to WordPress can be a little intimidating, as one has to be a little more tech-savvy when using it. Working with the WordPress dashboard and the many available themes and plugins requires a somewhat steeper learning curve than Wix does, admittedly.
Several other key highlights of the WP Engine are:
Free CDN and SSL certificates
Automated backups.
Free automated WordPress migrations
Speed: 582 ms
Uptime: 99.99%
Award-winning customer support 24/7/365
Pricing
Pricing for the WP Engine range from $25 going up to higher than $290 a month.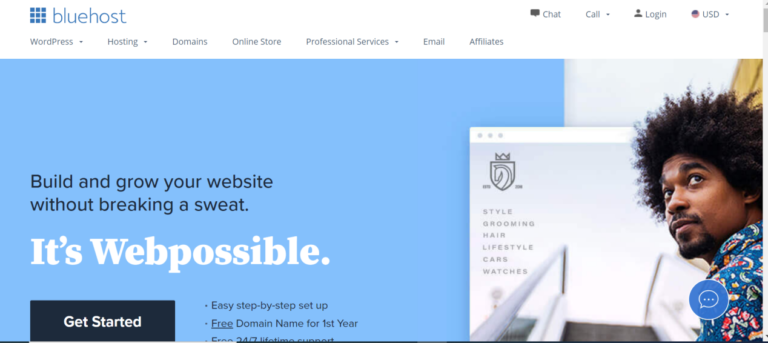 Blue Host is a well-known shared hosting solution and an excellent option for building a website from scratch. It is built on a VPS platform, which provides enhanced performance for your website. It includes SiteLock security and an advanced cPanel for a more robust experience. What's more, you can also enjoy automatic updates to your WordPress install and the server environment, ensuring that your website is always running on the most stable technology stack available.
Several significant features of Blue Host include:
Automatic WordPress updates
Unlimited traffic
SSL certificate and website backup
Securely configure your WordPress login credentials
Officially recommended by WordPress
50 GB storage
Speed: 689 ms
Uptime: 99.99%
Customer Support: 24/7 hosting support via phone, chat, and email.
Pricing
Blue Host offers various affordable packages, particularly for those who are just starting out. Their basic web hosting for just a single site, with promotions, can cost as little as $2.95 per month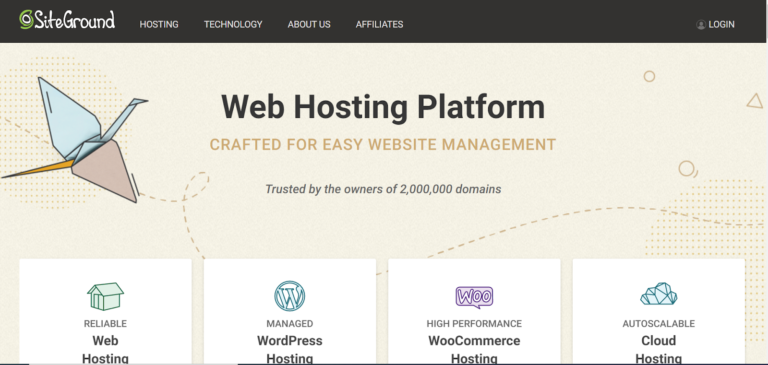 SiteGround is another wildly popular WordPress web hosting provider in the WordPress community. It strives for performance to ensure your websites are fast, and it suffers almost zero downtime as a result. SiteGround also includes several excellent tools that make managing WordPress sites easy.
The advanced WordPress features of SiteGround make it an excellent all-around choice for any WordPress user.
Some of the core features of Siteground are:
Automated WordPress installation
Free website builder
Free WordPress migrations
Managed security and updates
Performance optimized specifically for WordPress sites
Free SSL certificates
Unlimited free email accounts
Speed: 649 ms
Uptime: 99.98%
Customer Support: 24/7 support
Pricing
SiteGround packages are reasonably priced, and each offers a generous number of features. The price range starts from just $6.99.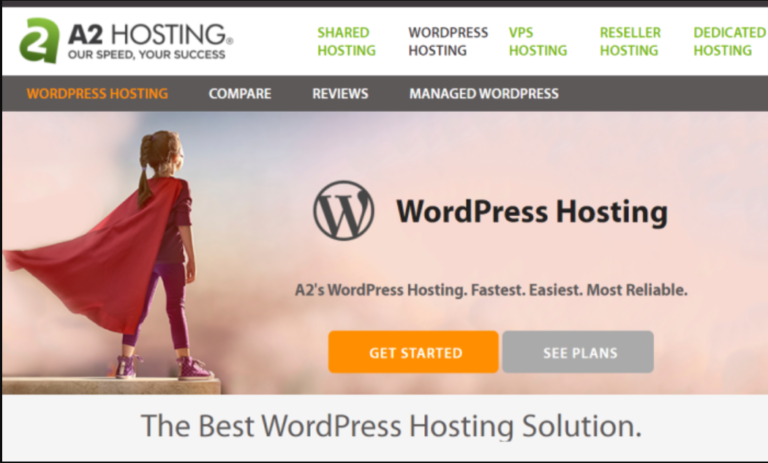 A2 Hosting is a famous, independent WordPress host that maintains an excellent balance between performance and affordability. In addition, they're one of the few hosts that allow their clients to pay every month, rather than requiring longer-term payments.
Among the many hosting providers, A2 Hosting undeniably leads the way for migrating free sites by using a dedicated team of real humans. This simple change results in a significantly more stress-free transfer.
Some of the essential features of the A2 Hosting platform are:
100 GB storage
Free SSL certificates,
eCommerce integration
Cloudflare free CDN compatibility
Unlimited email accounts
Speed: 285ms
Uptime: 99.97%
Customer Support: 24/7/365, available by email, live chat, phone, and support tickets
Pricing
A2Hosting offers various reasonably priced packages for different plans, starting as low as $2.99 per month, depending on your requirements.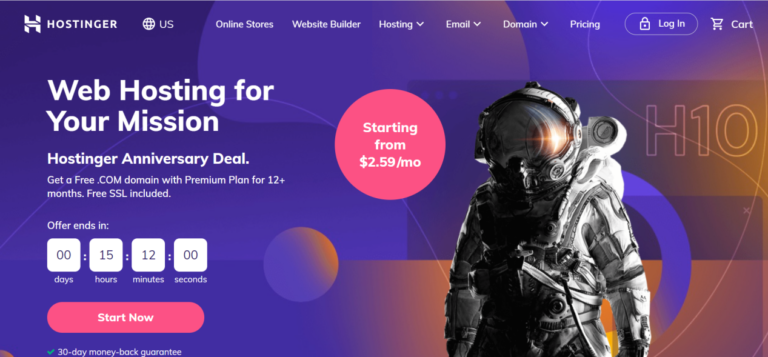 Hostinger is a well-known web hosting provider. With 1-click WordPress installation, it's also a brilliant choice for any website builder!
Twenty-nine million users across 178 countries rely on the robust Hostinger platform as their hosting service since it is an excellent option for small businesses that value fast and cheap WordPress hosting. In addition, Hostinger provides numerous excellent tools to make your site look professional. Their plans can also scale up with your business, making it affordable to get started.
Some of the features of Hostinger include:
Fast speeds
Free domain, SSL, and free email.
30-day money-back guarantee.
WordPress acceleration and managed auto-updates built-in.
Unlimited bandwidth
Speed: 146 ms
Uptime: 99.9%
Customer Support: 24/7 live chat support is available for customers
Pricing
Hostinger is an excellent choice for websites looking for great affordability since they have the cheapest WordPress plans, which start at a minimal $0.99 / month.
Choosing a WordPress web host provider depends entirely on your requirements. However, we fully recognize that web hosting research can be time-consuming, which is why we've gathered a list of top-class hosting solutions to help you make a quick yet wise decision.
Have you been looking for a new hosting platform to launch your website on WordPress? Share what's on your mind or the hosting provider you chose in the comments below, and leave the rest to us!