Protect Ecuador

is a web site designed to educate and inform researchers on open pit mining and the present time risks to the whole of the Amazon River posed by the Chinese owned Mirador Mine. David Dene, the founder of Protect Ecuador, is a renowned expert on Earth Jurisprudence and has been appointed by the United Nations to assist in the achievement of the 17 sustainable development goals for 2030. In addition to its efforts to protect nature, Protect Ecuador also raised awareness about the serious risks to human life and the environment posed by the potential collapse of the Mirador Mine tailings dams.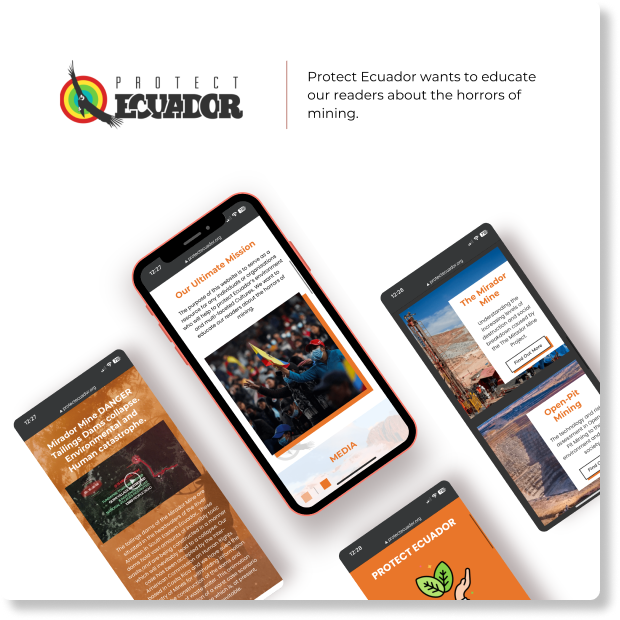 The website had a slow load speed which affected user experience. The website was not optimised for all devices, having issues with alignment. The goal of this project was to improve the efficiency of managing the website's content and enhance the user experience.
To maintain a consistent brand identity and improve content management, we migrated the website from Wix to WordPress in accordance with branding guidelines. Additionally, we made various improvements to the website to enhance the user experience, including alignment, image optimisation, increasing the page speed, and simplifying the user interface.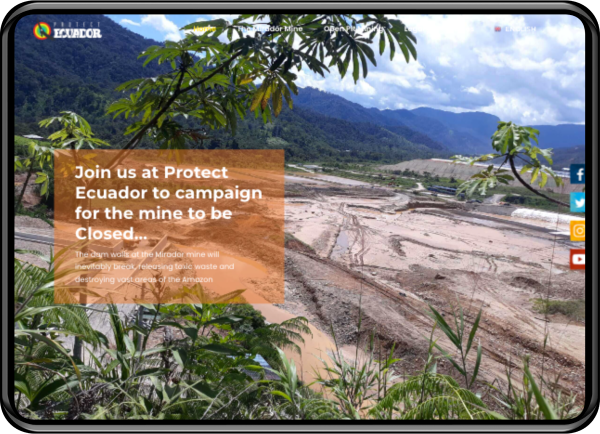 Visually appealing, and easy-to-navigate experience for their users.
Fast loading and high resolution for an improved user experience.
Intuitive navigation, effective search, and user-friendly buttons/links enhanced the website usability.
With these updates, Protect Ecuador has made the website more accessible and intuitive for visitors. The changes were implemented to enhance the user experience.
LET'S CREATE YOUR WEBSITe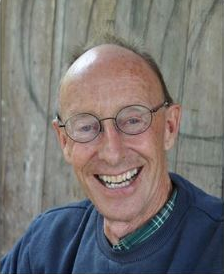 Engage Branding were a pleasure to work with and created an easy to navigate web site fully functional across many platforms. The process of creation and the interface between myself and Engage Branding was excellent. I thank Engage Branding for their patience and professionalism in the creation of Protect Ecuador.
Founder Of Protect Ecuador

WHAT OUR CUSTOMERS SAY ABOUT US
After working with another web design company in London, and having the worst experience ever I was so cautious my second time around. I spoke to a few different companies and found Sean and the Engage team to be the most informed, clear, and experienced. The price was right, communication and guidelines super clear, and final product was delivered with excellence. They are true professionals and an absolute breath of fresh air to work with. Thanks again Engage team for delivering beyond my expectations! I will recommend you to everyone I know.

Terry Morgan


August 25, 2022

Engage was excellent! Sean and his team were very creative and understood all our needs and wants for the website created.

Eula Kent


August 25, 2022

Sean and team are great to work with. The project was well scoped out and delivered to a T, but also in a timely fashion and within the budget. Highly recommended.

Donald Sanders


August 25, 2022

Working with Engage on our new Crypto website was a pleasure. They are an efficient team that gets things done and knows how to make their clients happy. Their creativity has taken not only our website but our brand to another level. I will jump on the chance to work with Engage again!

William Conway


August 25, 2022

We have worked closely with Sean and his team for designing website and their quality standards and communication support are really awesome. This guys do work with high spirit.

Jaime Chavez


August 25, 2022

They are amazing!! I couldn't have asked for a better company to build and grow with. They have great customer service support and give easy directions. Thank you so much!!

Carol Leonard


August 24, 2022

Engage helped me with a few complex development projects that required advanced knowledge of front and back-end technologies. The Engage dev team impressed me with their problem solving skills and completed all projects on time and within my budget.

Wilma Christensen


August 24, 2022

Awesome maintenance package, cleaned my website, never had a virus since

Katherine Myers


August 24, 2022

Engage has been EXCELLENT to work with. Their professionalism, promptness, sharpness and artistic taste are absolutely top-of-the-line. I worked with Sean pretty much virtually and it was seamless, and when I asked him for a face-to-face meeting to meet and showcase the project with my entire team, he didn't hesitate a second. He was very responsive at all times and delivered a fantastic, elegant and professional-looking website that exceeded our expectations in a very reasonable budget and timeline was respected. Highly recommended!

Joshua Price


August 24, 2022

We worked with Sean at Engage for an initial branding and website build. The project came in on time and within our budget/scope of the project. On top of that the communication was seamless and we didn't have any problems with coordination which can be problematic when done virtually.

Seth Blair


August 24, 2022

It was such a pleasure working with Sean and his team with our website. We did a complete revamp of our outdated website, and Sean was able to produce exactly what we were looking for. We were able to have a lot custom work done, which came out great! I've recommended Engage to 6 friends so far!

Marie Harbin


August 24, 2022

What an awesome company! These guys are serious about taking care of my business. They designed such an amazing website for us. It's hard to find the quality of work that they provide. I would not hesitate to recommend them!

Andrea Young


July 25, 2022

Thank you guys I am extremely happy with my new store. The process was so easy and it has been great se we launched. Thanks!

Jeanne Mann


July 25, 2022

This company was great, love their outstanding service, keep up the good work!

Jennifer Koonce


May 25, 2022

My company hired Engage to redesign our company website. The old site was outdated and did not represent who we have grown to become. Engage gave us a beautiful mobile compatible site, with amazing photo galleries that we use to share images from our events. Our clients have nothing but good things to say about the new site and it has definitely helped our business. We have se hired Engage to handle all of our online marketing (Social Media, PPC, etc.) and they are doing a wonderful job.

Lisa Miles


May 25, 2022

Sean and his team are true experts in website design and online marketing. Our family owns a number of businesses in the London area and Engage has helped us with all our website and marketing needs. We've seen a great increase in business since working with them. Thanks guys! -Hana.

John Holahan


May 25, 2022

We hired Engage to create a brand identity and build a website for our business. I can't compliment their knowledge and expertise enough! From the first conversation they began guiding us and taught our team a lot about how to launch a brand! Highly recommended!

Eddie Klein


May 25, 2022

It was really great working with Engage on building my brand site Sean really help me throughout the entire process explaining a lot of thing to me helping me out with ideas and also keeping me within budget even on my marketing campaign Strategies from the first time I spoke with Sean he made me feel as I was really important and I really appreciated that and look forward to do more work with Engage

Charlotte Case


May 25, 2022
We decided to give this company a try after being disappointed with other online marketing firms . The professionalism of Sean and the entire team was phenomenal but most importantly they got the job done . The results delivered we're amazing . My experience with so many other firms is that they will take your money and will not deliver . Sean and his team were there by our side from beginning To end and offered numerous follow ups to ensure our satisfaction .

Bennett Hill


April 25, 2022

Thanks engage branding team. We love what you've done!

Shelly Houston


April 25, 2022

We hired Engage to create a brand identity and build a website for our business. I can't compliment their knowledge and expertise enough! From the first conversation they began guiding us and taught our team a lot about how to launch a brand! Highly recommended!

Eddie Klein


May 25, 2022

I hired Engage to do my website and I was very satisfied with the way they worked. They really know how to listed to the client needed. My website looks amazing and I will highly recommend them.

Lucy Jackson


August 25, 2021

Our business was growing and we decided to design a new Shopify store. Our website is incredible and it super easy for us to track and control our inventory.

Angela Smith


April 25, 2022

Personal and attentive. made my tiny company feel special

Charles Chapman


August 25, 2021

Engage have been my web development partner for more than a year now, and I could not be happier with the results. My clients have beautiful websites, show up on the first page for multiple keywords in my city and the surrounding areas. The team is extremely knowledgeable and helpful. It has been a pleasure working with them.

Jeremy Williams


August 25, 2021

I will totally recommend Engage. They cater to y our specific needs. Thanks

George Crayton


April 25, 2022