The internet has revolutionized the world and how we live our lives. Indeed, the ways by which people share information have changed over the past few decades. And among the most notable changes, this digital transition has substantially affected the education and learning sectors.
Whether it's learning a new language or advancing your current design skills, online courses have become one of the most convenient ways for people to learn from the comfort of their own homes.
What's more, the best part about these online courses is that they help you earn and monetize your website without any hassle! So, why not consider integrating online courses with your own site, too?
WHICH PLATFORM SHOULD YOU CHOOSE?
WordPress is your best bet if you're looking for a platform to start online courses or a professional training program. Many content management systems (CMS) are in the line-up for online course management, but what helps WordPress stand apart is its ease of use, even for those individuals without any technical knowledge.
It's streamlined, cost-effective, and has easy integration options for countless tools and plugins. In short, WordPress is ideal for delivering online training.
As such, now that we've clarified that, let's dig in deeper to learn more about LMS (Learning Management System) plugins and the benefits you could get by turning your WordPress website into an LMS platform.
INTRODUCTION TO LMS PLUGINS
An LMS is a software application for delivering educational courses or training programs in corporate and educational environments. In addition to delivering effective training content, an LMS allows administrators to track a learner's progress and participation.
These LMS plugins add numerous new functionalities to your WordPress website and help turn your knowledge and skills into a valuable business. They are also cost-effective and accessible without much effort.
Below, we have presented some of the key benefits you can get from an LMS website.
BENEFITS OF TURNING YOUR WEBSITE INTO AN LMS PLATFORM
An LMS can help you learn and earn from the same platform without the hassles traditionally associated with such a procedure. A well-implemented LMS has several inherent advantages, including:
Effective Learning and Administration (An LMS can work as a powerful tool to create and manage content and helps maintain standards of work, without compromise.)
Easy Tracking and Reporting (An LMS system helps improve your work performance by tracking and analyzing data and measuring training effectiveness.)
Consistent and Scalable Content Delivery (Learning management systems provide unlimited access to content, creating individual learning plans according to the requirements.)
 Time and Cost Saving (Learning flexibility for employees and students can help save hours of time and a large sum of money compared to other, traditional learning methods.)
 Monetize and Commercialize (Last but most certainly not least, having an LMS helps transform your website into an e-commerce platform by monetizing your content.)
TOP 5 LMS PLUGINS FOR WORDPRESS
Now we've clarified some of the key benefits of integrating an LMS, here are some of the top 5 LMS plugins for WordPress that you can utilize to build your e-learning platform. Choose the one that suits your requirements the best!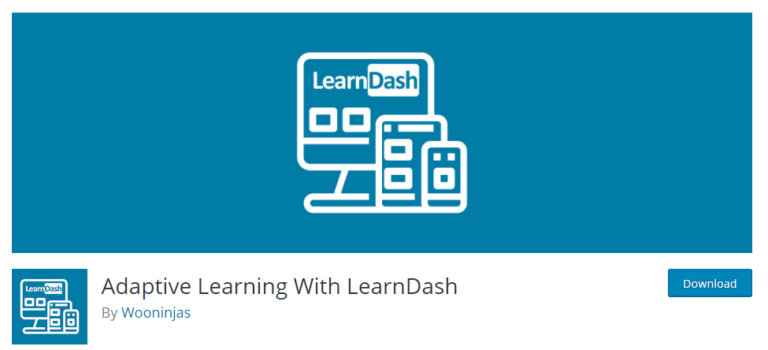 LearnDash is a convenient and easy-to-use LMS plugin for e-learning, allowing you to design a variety of courses with this plugin in no time. Its unique features make it popular among educational institutions, companies, and entrepreneurs. The overall speed and impressive course design make it favorable for many users. What's more, LearnDash is compatible with almost all other WordPress plugins and themes, which helps it stand out compared to other LMS plugins.
Some of the most significant features of this plugin include:
The fully integrated drag and drop builder allows you to create a multi-tier course in no time.
You can use text and multimedia mediums to create engaging, interactive lessons.
Evaluate learners through built-in quiz templates or create your own with zero hassle.
Gamification techniques allow users to earn points after completing a specific task.
Rewarding users becomes more accessible thanks to e-learning certificates and badges for appreciation.
Opt-in allows you to integrate subscriptions, membership, or one-time payments through simple payment gateways.
Automated emails correspond with your learners' progress.
The dynamic format and forums allow students to interact with each other for further assistance.
LearnDash is a premium plugin starting at $159 for a single site. This pricing provides year-long updates and subscriptions.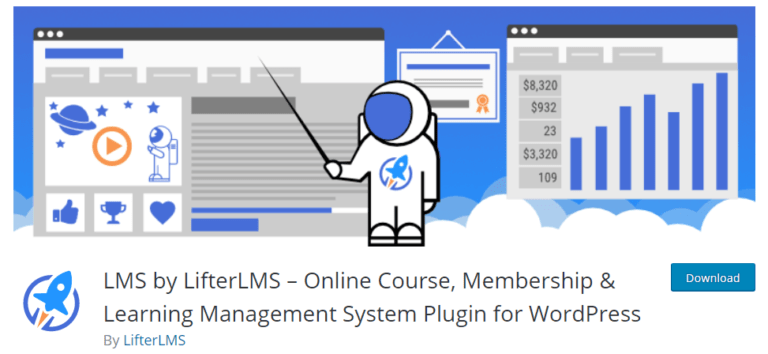 Another plugin that allows you to create effective e-learning lessons with minimal effort is LifterLMS. Its simple yet valuable features allow you to create engaging courses for your users. Moreover, it's highly popular among freelancers, marketing agencies, entrepreneurs, and learning institutes. However, thanks to the intuitive interface, it's also ideal for beginners, as well.
You can integrate all of your favorite tools, themes, page-builders, and plugins with this LMS. Along with all the fantastic features, LifterLMS also provides the best online support systems to help its customers optimize their education goals.
Some of the most powerful features of this plugin include:
Effortless content creation thanks to the amazing drag and drop course builder.
Use of different multimedia formats for simple lesson planning.
Triggered emails make notifications tailored and effective, such as reminders.
Allows users to implement multi-tier course creation solutions.
Pre-requisite content is available according to requirements.
Quizzes and assessments allow for easy management of students' progress throughout the course.
Further reading material and work plans are available for download.
Grade books for students help keep track of their scores.
Integrates valuable forms, making it easier to collect feedback from users.
The main version is free, but premium add-ons are available, starting at $99 per year, for added functionality and enhanced course management.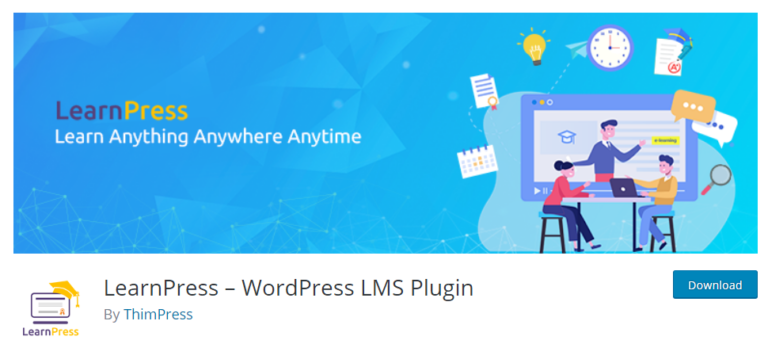 Learnpress is another excellent option and is simply one of the most feature-rich and flexible LMS plugins available for WordPress. Offering a straightforward solution to your LMS needs, it also includes several great free features to help you get courses off the ground. It also has an extensive library of free and paid add-ons to make individual adjustments. Learnpress also provides several built-in themes to save you from breaking site issues, and any compatibility errors between plugins and themes are effortlessly resolved.
Some of the most prominent key features include:
Users can add courses to their wish lists.
Integrates easily with BuddyPress for creating forums for discussions.
Quizzes and assignments are available for ongoing student assessment.
The integrated drag and drop builder allows you to easily create course content.
Schedule your lesson plans using the drip-feed content feature.
Certification is available for students following the completion of certain milestone tasks.
Works well alongside woo-commerce and other e-commerce extensions, allowing you to integrate better monetization.
Import or export content through other websites integrating the Learnpress plugin.
Functional with several of the most popular payment gateways, such as PayPal (by default), Stripe, and Authorize.net as a premium add-on.
Learnpress is available with a free version; however, to get full access to all add-ons, we recommend opting for the pro bundle, which starts at $249.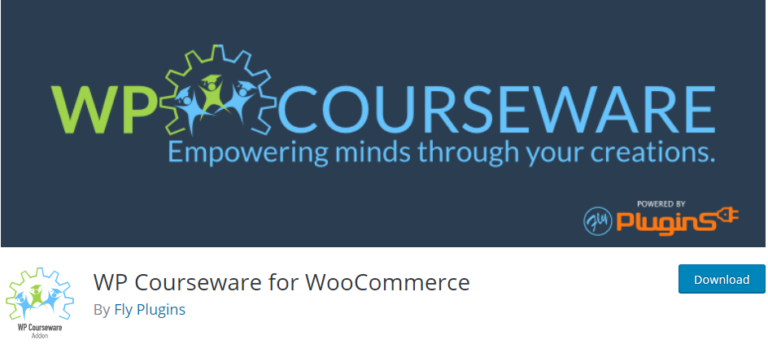 WP Courseware is one of the oldest plugins on today's list. But, while it may not be quite as popular as the others, the developers' experience certainly helps ensure it works effectively.
A stand-out element of the WP Courseware plugin is its extensive collection of integrations (of which WooCommerce is one). This allows you to have superior control over monetization from the core plugin, whether a student subscribes to your content or if they're simply making a one-time payment. Or, if you'd prefer, you can offer your courses and learning material for free; it's up to you!
Some of the most prominent features of the plugin include the following:
You can assign an "Instructor role" to your users if working from a single virtual classroom.
Allows access to instructors for editing content and creating new solutions.
The integrated drag and drop builder allows for hassle-free customized content.
Releases your content at the most relevant, specific times thanks to the drip-feed feature.
Fully compatible with all video hosting solutions such as Youtube, Vimeo, and more.
Multiple quiz formats are available to test students' understanding.
Awards students with a downloadable certificate on completion of specific courses.
The plugin is also provided with several advanced automation tools for rapid email notifications.
The WP Courseware plugin can be used across two sites for $129 per year. Further information is available on the plugin and its pricing
here.
Sensei is well-known for its simplicity, making it an excellent choice for anyone searching for an online coaching solution. One of the most crucial things to remember is that the tool works as an extension of the WooCommerce plugin rather than a standalone LMS. Although it is not as feature-rich, the simple, intuitive features and other add-ons work easily. As such, depending on the additional features you need, you can also add several extensions.
The most notable features of this plugin include the following points:
Create content rapidly and with ease.
MThe majority of WordPress themes work well with Sensei.
The tool integrates well with Woo-Commerce plugins.
User restrictions with content dripping (PRO).
Quizzes and assessments to track students' progress (PRO).
Grading and certificates are available as incentives (PRO).
Running the Sensei tool on a single site costs approximately $149 for a year's subscription. For a more detailed pricing plan, please check
here.
Convenience is one of the main reasons people love e-Learning. However, aside from educational institutions alone, e-Learning has largely become essential for businesses, too.
Fortunately, WordPress LMS plugins satisfy all of your requirements for creating a feature-rich online learning platform that is easy to manage.
What's your favorite LMS plugin for e-learning? We'd love to hear from you if you have any thoughts on any of the plugins we've listed today.