Having a registration form on your WordPress website makes it so much more user-friendly, helps with brand recognition, and is one of the most convenient ways to generate more leads for your business. However, to get the most from your registration forms, opting for an effective plugin can be a great first step.
Why Use a User Registration Plugin for WordPress?
Although WordPress has a primary registration option, using a registration form plugin gives you far greater flexibility and control over the registration process.
You can effortlessly create custom forms and display them anywhere on your website with just a simple drag and drop builder. In turn, this helps you build advanced registration flows for a more personalized user experience, automatically assign user roles, have complete control over who can access the restricted content on your website, and so much more
The following seven plugins allow you to register users efficiently and systematically. And, perhaps most importantly, they help keep your website spam-free and secure.
The Seven Best WordPress Registration Plugins
To help optimize your WordPress site, we've outlined a list of our seven best, hand-picked WordPress registration plugins. Hopefully, you might be able to add to your own WordPress websites for greater efficiency and functionality, overall.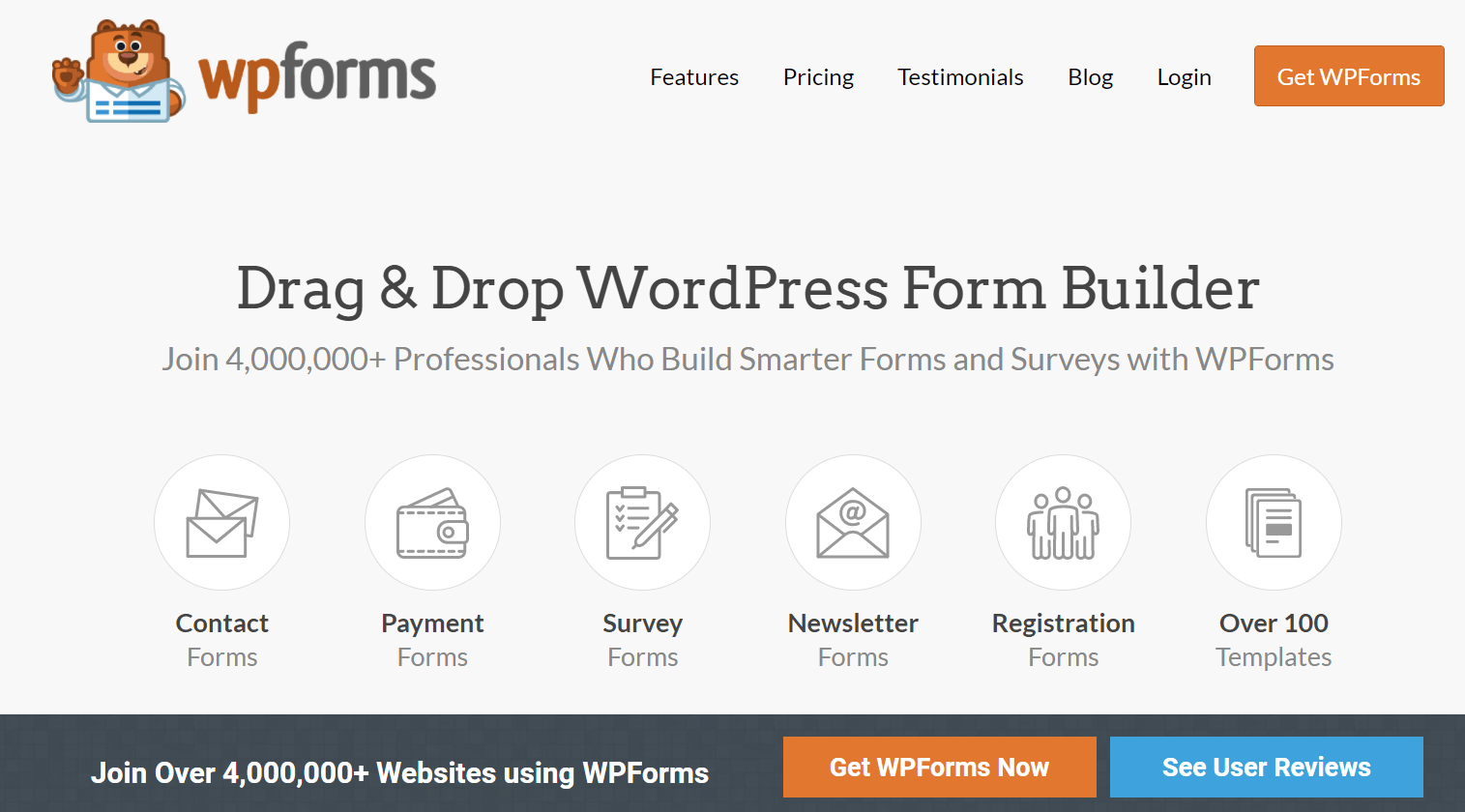 WPForms ranks among the top WordPress form builder plugins. Its effortless drag and drop interface allows you to create amazing registration forms without having to write a single line of code. In fact, you can create custom registration and login forms with just a few clicks using the user registration and login add-on. It is 100% responsive and works effectively on all devices. What's more, WPForms is perfect for business owners, designers, developers, and even beginners, thanks to the pre-built form templates which help you customize forms and save time overall. What's more, this plugin also allows you to integrate different payment gateways such as PayPal, Stripe, and Authorize.net for a more accessible collection of payments.
Drag and drop builder for instant form creation
The smart, conditional logic feature helps create high-performance forms
100% responsive, user-friendly design
Allows users to upload files and media with form submissions
Smart Captcha and spam protection features
Supports multiple add-ons for extra additional functions, e.g., Salesforce and MailChimp
Easy to customize with numerous different options
Enables multi-page forms for a better user experience
WPForms offers four pricing bundles. Prices starts from $79 and range up to $599 for the Basic, Plus, Pro, and Elite plans.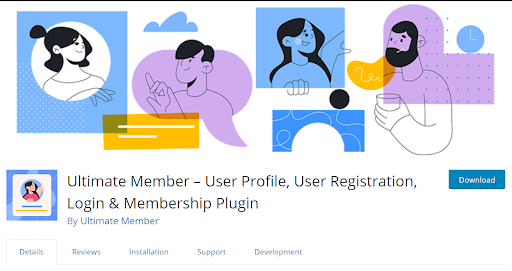 Ultimate Member is a drag-and-drop form builder that lets you create registration forms in just a few clicks. Its high download rate and excellent ratings are testaments to its excellent performance, keeping the registration process easy for users to sign-up and become members.
This plugin also features a powerful user dashboard that offers advanced features and functionalities in a user-friendly manner. It has several excellent tools for user account pages, conditional logic for registration forms, and member directories. In addition, the plugin also supports multiple column forms, reCAPTCHA, email notifications, drip content, custom fields, social media links, account management, automatic password reset, and so on. And, if that wasn't already enough, you can even expand the plugin's functionality with plenty of unique extensions and features, such as Instagram integration and private messages.
Easy to use
Full control over member access, user-roles, and so much more.
Custom form fields
Conditional logic for smart forms
Option to display users on a map on the member directory post
Sample pages for account login, logout and more
Sample forms for login, Profile, and Registration
Google reCAPTCHA support
Social login feature
WooCommerce compatible
Ultimate Member has a free version that provides a limited set of features that is suitable for most users. For a more in-depth, advanced experience, premium plans are priced at $249 or $299 per year.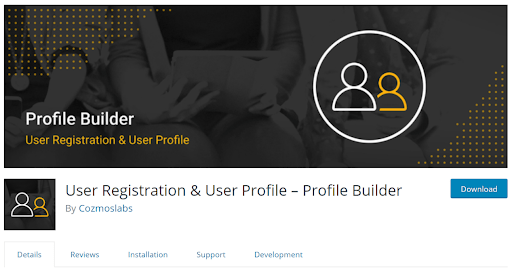 Profile Builder is a user registration and login plugin for WordPress, allowing you to add a registration menu on your WordPress website using shortcodes. The plugin lets you restrict content based on user role or logged-in status.
The simple form creator offers a drag and drop functionality and has several predefined forms. The plugin offers a flexible solution to modify the user profile through the front-end menu. In addition, the premium version also allows you to create additional user fields, add avatar uploads for users, and supports conditional logic.
Profile Builder is sometimes also known as the User Registration and User Profile tools. Its free version comes with a long list of features and works well for both beginners and advanced users.
Email confirmation option
Features an integrated role editor
Admin bar settings and reCAPTCHA support
Option to generate multiple registration forms
Uses a combination of menu form creation
Supports shortcodes and custom CSS
Email notification and integration with MailChimp (premium)
Social media and WooCommerce support with add-ons
Profile Builder includes both a free version and two premium plans priced at $69 and $149 per year.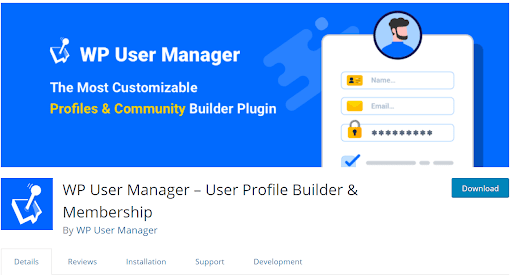 WP User Manager is a free WordPress user registration plugin that allows you to create user registration forms within minutes. It allows you to restrict access to content through user levels and is ideal for LMS platforms and other subscription websites. In addition, it supports custom fields, form placement widgets, shortcodes, and more. This plugin works well for those for whom security is a significant consideration, and there are several more advanced security features than in any other WordPress registration plugin. The premium version of the plugin gives you access to additional features such as the ability to add custom fields, built-in email verification, social login, GDPR data compliance, and WooCommerce integration.
The plugin is developer-friendly
WP User Manager is translation ready
User directories are excellent ways to find users and organize them in one list
Support for custom fields and advanced custom fields
Email notifications and MailChimp integration
Social media login support
No need for membership fees; only pay for the add-ons you need.
The basic version of the plugin is free. Meanwhile, premium plans start from $99 up to $249 per year.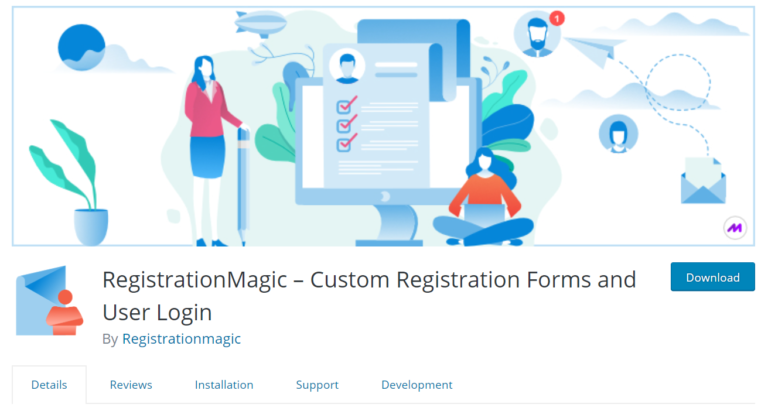 RegistrationMagic is a WordPress plugin that's ideal for creating multi-purpose forms. It integrates a full-fledged user management module to connect registration and payment activities with individual accounts. Moreover, the tool also features the option to suspend and re-activate users. The admin dashboard allows you to track and analyze form submission stats effortlessly. What's more, the plugin provides a wide variety of features and extended functionality options. For example, a popup is displayed for a brief tour on activating the plugin, which could help you understand the interface more rapidly. It also provides shortcodes for predefined sample forms to copy and paste directly into your custom pages. This tool gives auto-responses for notifying users and supports third-party integration, including social login, Mailchimp integration, WooCommerce, DropBox integration, and Google Maps API key integration.
Drag and drop field sorting
Options integrated to display different forms to different users
Set limits for registering users
Unlimited registration forms
Powerful email notifications
Supports Magic popups, export/import functions, and visual form editor extensions, as well as Google reCAPTCHA
Payment options with PayPal and Stripe integration
Options for role-based access
Efficient integration with the NewsLetter plugin
The basic version of this tool is free. For additional features, the premium plan starts from $89 for a single website. A Premium+ package is also available, covering unlimited domains with a lifetime of support and updates.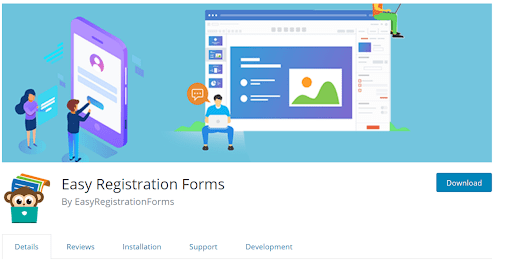 Easy Registration Forms keep things simple with a very straightforward dashboard. As a result, it's almost effortless to create, deploy, and manage forms and integrate them anywhere on your website.
The tool offers an intuitive drag and drop form builder, templates for registration, a simple user management interface, analytics tools, and so much more. It's ideal for both WordPress beginners and developers alike.
Easy Registration Forms allows you to create forms that can be as simple or complex as you desire. In addition, the highly convenient reporting system relays information to the interested party in a periodic manner. This also allows you to restrict access to content on your website as per the user's role.
The plugin supports a responsive form design with reCAPTCHA configuration. The developers even include several popular add-ons, such as Mailchimp integration and more.
Includes a drag and drop form builder
Supports conditional logic and multi-step forms
Support for several payment gateways, including PayPal and Stripe integration
GDPR compliance tools
Unlimited user registration forms
User registration notifications
reCAPTCHA configuration
User management and analytics
MailChimp and MailPoet integration
Import submissions directly from CSV files
Built-in login form widget
There's a free version of Easy Registration Forms that's easy to use; meanwhile, premium plans cost from $59 to $189 per year.
The seven excellent WordPress registration plugins we've mentioned in today's guide have been well-researched and hand-picked, hopefully helping you find the choice that's ideal for your site. Choose the plugin that best meets your requirements, and we assure you they will make the user registration process a breeze overall.
Are you using any of the plugins mentioned above? Please share your experience with us in the comments section below. We'd love to hear back from you!