Virtual events are among the best ways to communicate with your staff, teammates, students, and employees without the hassle or hindrance of restrictions. Several factors can affect the attendance of a meeting that's held in person, such as time zone differences or difficulties with finding the exact venue, among other issues. By contrast, participants are much more likely to attend when the same event is hosted online (in a virtual environment) since virtual events are accessible from any device with an active internet connection.
However, joining a virtual event first requires you to have an invitation link – which, by extension, requires you to choose a hosting platform for your meeting. There are many ways to host online meetings, webinars, and events; for example, you could use platforms such as WebinarJam, Zoom, Zoho Meetings, and the like. However, if you've got a WordPress website, you can make things even easier – and today's guide will explain everything you should know about hosting virtual events on WordPress.
How To Host Virtual Events With WordPress Sites?
Every website you visit is hosted on a server. This server stores all files relating to the website. According to Wikipedia, web hosts allow individuals and organizations to make their websites accessible on the World Wide Web. There are four main types of Web Hosting services:
A webinar solution (for example, Zoom or Google Meet)
Your WordPress website
A WordPress event management plugin
A good webcam and headphones or computer speakers
You may also need an external microphone to ensure that the sound quality of your event isn't compromised.
So, let's get started.
First, you should start by creating your event using a platform such as Zoom, Google Meet, Join.me, or another similar hosting program. Of course, every virtual events tool has a unique interface; thus, how each one is set up differs from one platform to another. However, they are typically intuitive, and you should be able to create an event easily following the platform's built-in wizard.
Once you're done creating the event, simply copy the invitation link. This invitation link is what you'll add to the event manager plugin on your WordPress site.
At this point, all you need to do is install and activate an event management plugin on your WP site; this could be the Event Calendar plugin or the infamous Event Espresso plugin. By contrast, the WP Event Manager plugin also supports a Zoom add-on that allows you to directly integrate your Zoom account, making it easy to import your Zoom events to your WP site.
Using your chosen event manager plugin, simply create the event's homepage, forms, start and end date, and time. You should also include any other important information for your upcoming meeting here.
Finish creating your event from your WP dashboard, then publish it to go live on the internet. Your website's visitors can view the event info page, complete the sign-up forms, and provide all of the necessary details to register; all these can be done directly from your WordPress site.
Finish setting up your event from your WP dashboard, then publish it to go live on the internet. Your website visitors will then be able to view the event info page, complete the sign-up form, and provide any necessary details to register for your event; all of these steps can easily be done right from your WordPress site.
The Best WordPress Event Management Plugins
Setting up an event with WordPress is easy – but you need the right plugins for the best results. Fortunately, this section lists the best WordPress plugins for creating and managing online events directly from the WP admin page. However, you may need to buy premium versions to get the best features.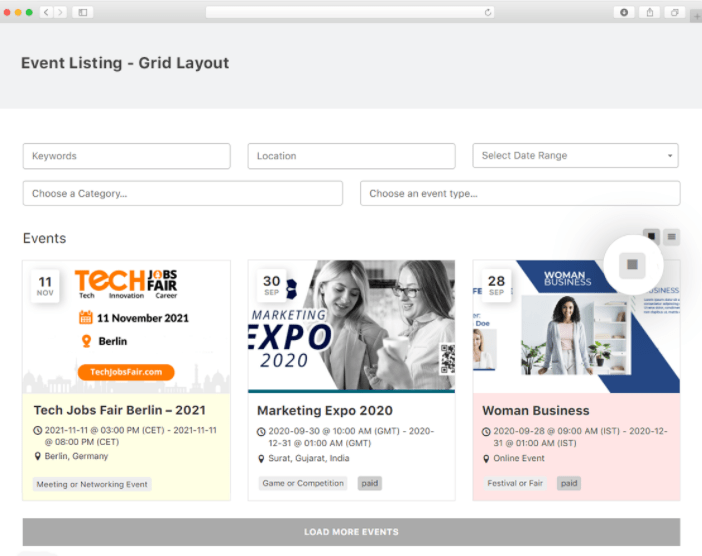 The WP Event Manager is one of the best event management plugins to use on a WordPress site. This plugin comes with a ton of features and has an easy-to-understand interface. It's also fully comprehensive and integrates everything you need to create a professional online meeting.
The tool is lightweight and already active on over 10,000 websites. This plugin allows you to integrate various other event creation platforms, such as Zoom, as add-ons. It also supports creating event sign-up forms and provides a ton of useful built-in tools.
While this tool is available for free, some of its add-ons are available for a price. A further great feature of this plugin is its support of multiple languages.
Timely All-in-One Event Calendar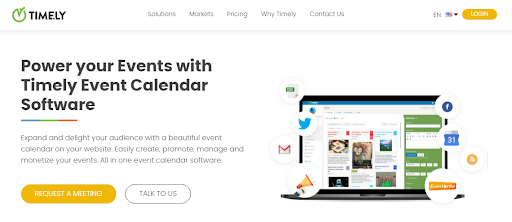 This is not just an event calendar plugin; in fact, it comes with extensive features and is available for free. The Timely All-in-One Event Calendar lets you manage all of your events from a single dashboard.
To get started using this plugin, you'll need to create an account with the developer. However, if you need more than just an event calendar, the full event management solution option is available for $14.99 per month. This full version supports Twitter integration, Super Widgets, and a bunch of other premium features you'll find handy. Timely Event Calendar is currently active on over 100,000 WordPress sites.
Events Manager is an excellent WordPress event management plugin with countless great features. It supports a ton of add-ons and is easy to use, lightweight, and flexible to customize. You can create event registration forms easily, manage recurring and long (multi-day) events, manage multiple tickets, and so much more.
This WP plugin has both free and paid versions. The free version provides many features, but you'll get the best from the Events Manager tool with the paid version. Furthermore, you can integrate Zoom Webinars, BuddyPress, and many other online meeting platforms that work with WordPress.
Events Manager is effective for setting up event categories, creating advanced permissions, iCal Feed, and so much more. As such, it's a comprehensive tool that's ideal for hosting virtual events with WordPress.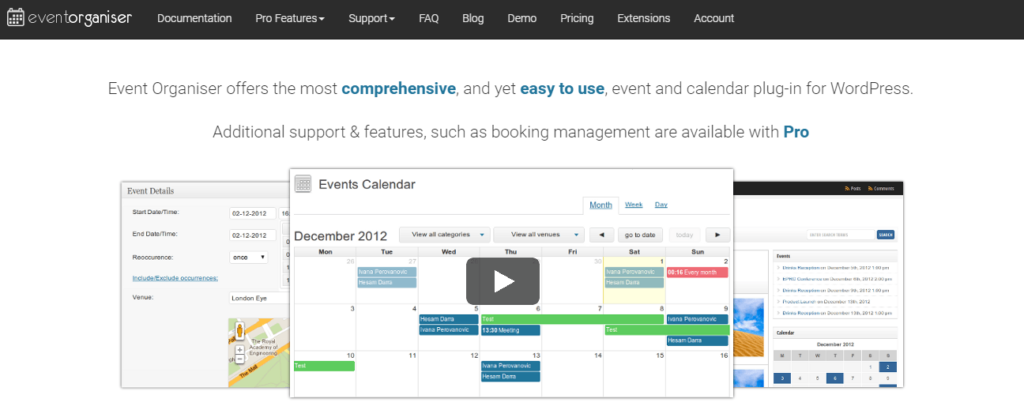 Event Organiser stands out from the crowd with its support for built-in "custom post types." With this plugin, you can create multiple events effortlessly with similar functionalities and then add the specific features you want for each event.
Like most other WordPress event management tools, this plugin has a free and paid version. The intuitive user interface allows you to manage all of your events seamlessly. Moreover, with Events Organiser installed on your WP site, you'll be able to view your events in the familiar WordPress list. Furthermore, this events management plugin also supports over 20 different languages and even provides a subscription option, allowing your website visitors to subscribe to events.

If you expect to add ticketing to your virtual event, this plugin might just be the one for you. Event Espresso allows you to easily integrate PayPal payments and provides you with every tool you need to sell tickets for an online event, workshop, or training session.
Thanks to its wide range of features and support for numerous external integrations, this plugin is inarguably one of the best WordPress event management tools.
With Event Espresso, virtually anyone can create events from the dashboard admin area. Furthermore, this plugin allows you to create sign-up forms to collect vital information for creating a comprehensive report at the end. There's also a tab to manage attendees' profiles.
EventOn is a premium plugin for managing any type of event you'll want to host on your WordPress site. This event management plugin isn't free, but it comes with many features that help it more than measure up to the price on the Envato market.
EventOn is an event calendar solution for WordPress sites; it is beautifully designed to present events in a minimal, clutter-free interface. There are about 200 useful features available with this event calendar plugin, including multiple event images, layout designs, unlimited event creation, multi-data types, support for various languages, and so much more.
You can also get more features on EventOn by exploring its wealth of compatible add-ons.
Modern Events Calendar Lite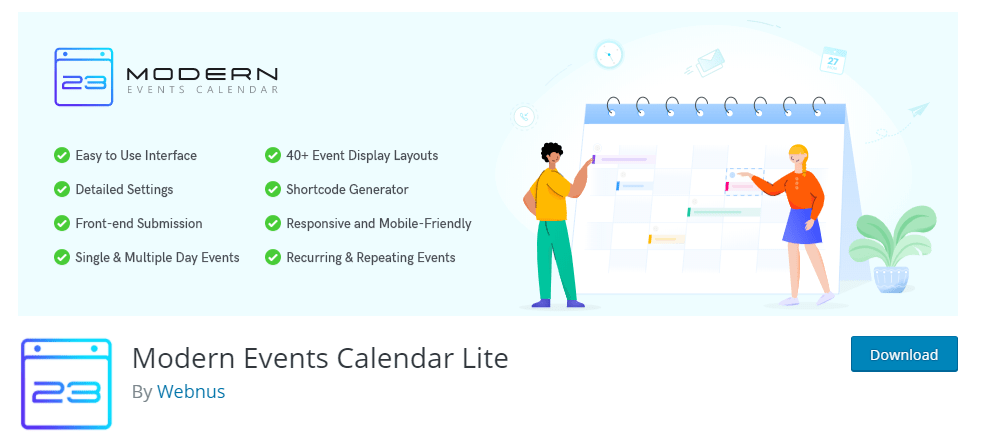 Featuring a super-easy interface, 40+ unique layout designs, short-code generator, front-end submission, and so much more, Modern Events Calendar Lite is one of the best plugins for WordPress event management. This plugin is designed for both novices and professionals, and it helps you create simple events with a professional finish.
With support for multiple design layouts, you'll find a perfect, enticing layout for each event you create with this tool. Furthermore, the Modern Events Calendar Lite is responsive, mobile-friendly, and available for free. Thanks to the intuitive interface, it's also great for managing reoccurring and repeating events.
As you might expect, there is also a premium version of this plugin called Modern Events Calendar Pro.
To host a virtual event via your WordPress site, you'll need to install an event management plugin that integrates with Zoom or Google Meet and configure the parameters your attendees need to submit. Fortunately, it's easier than ever to track and manage multiple events from your WordPress admin page with the right event management tool. There are, of course, many other WordPress event plugins out there; still, we highly recommend you consider today's top seven, as they are among the most reliable and flexible on the market.