One of the most effective methods to engage and retain your audience is sending push notifications. This method has become quite popular among marketers since it helps you connect with your audience, even when they are not actively visiting your website.
Contact forms are short, web-based forms, usually with fields asking for general information. They provide a way to receive messages from your visitors without revealing your email addresses. This helps you receive feedback from customers and helps you to connect with your users in a hassle-free manner. Moreover, a simple contact form (ideally without irrelevant fields) can help make your website user-friendly. It also provides users with an additional sense of trust.
With this thought in mind, without further ado, let's discuss what push notifications are and why you should use them.

What are Website Push Notifications?
Push notifications are small, clickable messages that you receive in the notification area of your mobile device or the messages you see on the bottom-right corner of your computer's screen.Chances are that you've received them before, at some point.
These notifications help you reach your users and send them target-based messages, which generates more traffic and leads to conversions. They help boost sales, increase recurring traffic and keep users engaged by letting them know about your business's latest updates and offers.
What are Website Push Notifications?
Push notifications are easy to implement and follow a simple mechanism.
After installing a suitable plugin for Website Push Notifications, you can set up an opt-in consent box to ask for the user's approval. This consent helps you target the audience interested in your business and genuine customers.
The dialogue box is displayed on the top whenever a new user visits your website.If the user gives their consent, you can send them timely push notifications regarding deals, promotions or updates about your business.
Reasons You Should Opt for Website Push Notifications
If used carefully and accurately, website push notifications can add immense value to your business. Below, we will discuss some of the primary reasons for using Web Push Notifications and understand why they are essential for marketing.
For successful campaigns, it's often first crucial to know your target audience. Whether an email campaign or a push notification, customizing messages for different groups brings better results than generating standard content for all users.
Fortunately, automated segmentation tools are readily available with many website push notification plugins. These ensure , you can easily categorize your users based on their actions, location, and device.
Increased Conversion Rate
Push notifications boost your platform's conversion rate;. By sending timely messages, notifications can substantially help drive organic traffic.
Keep your users engaged by sending them the latest news or special offers. In return, they can easily and quickly evaluate your company's benefits and, if they feel so inclined, make a purchase.
Why not set up a special discount notification to create a sense of urgency in the user's mind as a further tip? This simple strategy can be a great way to help you get more sales.
Push notifications boost your conversion rates; by sending timely messages, which can help drive organic traffic.
Oftentimes, notifications are highly compatible with all major operating systems. These include, Android, Windows, MacOS, and browsers such as Firefox, Chrome, Safari, and Opera. Because of this support, push notifications can potentially reach up to 80% of your internet users.
They can generate a high ROI for businesses and increase your daily traffic by up to 25%.
No personal user data required
Most people are hesitant to give out their names and email addresses out of fear of spam. Fortunately, with website push notifications, no such information is required; all you need is permission to send the user notifications, and you're ready to go!
This seemingly simple change can be a great way to build trust and give your userss a more secure feeling
Moreover, unlike descriptive content for emails to attract users, these notifications are short and targeted and help gain your users' attention in a very short span of time.
5 BEST WEBSITE PUSH NOTIFICATION PLUGINS FOR WORDPRESS
WordPress is the most popular CMS, and it powers around 40%  of all websites on the internet. As such, if you have a WordPress website, it's worth considering that millions of new posts are published on WordPress every month; therefore,, keeping your website's marketing strategy updated is essential.
This is where WordPress Push Notifications come in. They act as an effective marketing tool for your business and often rank higher than other marketing tactics.
Let's briefly take a look at some of the best push notification plugins for WordPress as follows..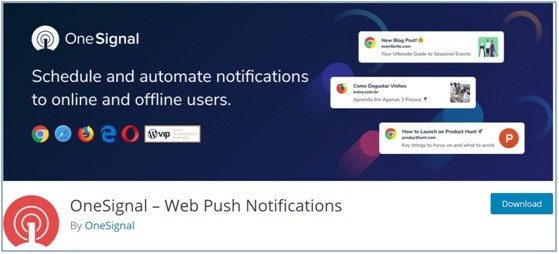 OneSignal is one of the most popular push notification plugins worldwide. It's an all-in-one push notification service that helps you increase user engagement and bring back visitors to your site thanks to customized notifications.
OneSignal also allows you to send notifications, emails, and SMS to your users, along with A/B testing to see which notifications have a better conversion rate.
The plugin is free to install and integrate and is compatible with almost all browsers and devices, making it powerful and highly effective as a result..
Real-time
reporting
Triggered notifications and targeted segments
Real-time analytics on notification performance
Easy to setup
Automatic notifications with reminders
OneSignal is completely  
free to install.
However; the free plan comes with essential features and allows you to send up to 10,000 web push notifications and unlimited mobile app push messages per month. The 
premium plans
 come with advanced functionalities and start at $9 per month.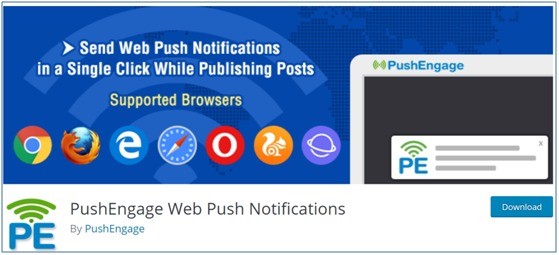 Push engage, one of the best web push notification software options, is trusted by more than 10,000+ companies for their notification campaigns.
You can easily manage multiple sites with a single PushEngage account, and it is a perfect solution for beginners and advanced users. It works on both HTTP and HTTPS websites and supports all devices and browsers.
With accessible Attributes API, you can even personalize notifications with your subscriber's first name or any other available details.
You can see everything you need to know about the opt-in rates, total clicks, CTR and auto-notifications through the dashboard.
Multiple browser support
A/B testing
Triggered notifications
Goal tracking and analytics
Automatic drip campaigns
OneSignal is 
free to install;
  however, the free plan comes with essential features and allows you to send up to 10,000 web push notifications and unlimited mobile app push messages per month. The 
premium plans
 come with advanced functionalities and start at $9 per month.
However, it's still free to install.
 The 
business plan
 starts at $29 for up to 5000 subscribers; meanwhile the premium plan at $59 comes with a limit of up to 10,000 subscribers.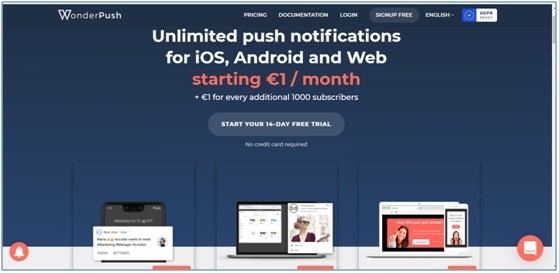 WonderPush is one of the best premium push notification plugins for WordPress. The tool focuses on speed and allows you to reach your users faster than your competitors.
In addition, it also comes with a dashboard displaying real-time reports, a visual editor and scheduled post automation.
The plugin includes A/B testing features to run experiments and find the best-performing campaigns. You can also maximize the performance of push notifications thanks to the inbuilt tracking system
The tool is highly compatible with any iOS or Android App or website and is also GDPR compliant.
Timezone management
Event-based targeting
Segment-based automation
Visual notification editor
Real-time reports with built-in metrics
Scheduled and Periodic automation for sending out notifications
WonderPush is a 
premium plugin
 with the most affordable plan starting from just €1/month with unlimited push notifications. Additionally, there is a 14-day free trial to test the product before purchasing it.
Web Push Notifications – Webpushr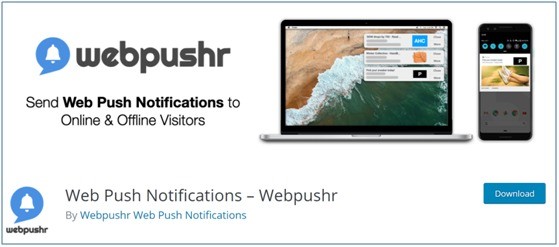 The next plugin on our list is Webpushr, a simple web push notification plugin that offers a wide range of templates for customization.
It is a feature-rich plugin that supports both HTTP and HTTPS websites. It is designed to integrate seamlessly with WordPress and WooCommerce. What's more, once set, you can quickly start sending push messages to your site visitors at anytime.
One of the key features of the Webpushr plugin is that you can use emojis and images to make your notifications attractive and clickable. As such, it's easy to see why this is one of the fastest-growing platforms on which marketers and developers can rely.
Webpushr also offers the best support for WooCommerce sites. After configuration, you can automatically send alerts for new products, price drops, sales promotions, and abandoned carts to your users.
The plugin has offers a 
free plan
which offers anywhere up to 10,000 subscribers and unlimited notifications. Thereafter, the
premium plan
 starts from $29/month for up to 50,000 subscribers and more offers even additional features.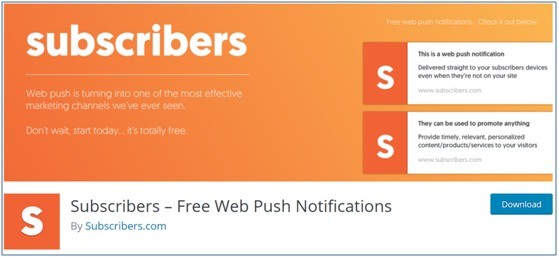 Subscribers is a simple push notification WordPress plugin with an intuitive UI. You can schedule your notifications ahead of time and trigger them based on time and location for a targeted audience reach.As such, it's an ideal choice for marketers looking for a new and effective channel to reach their audience.
Be it news, sales, order status, special offers, events or anything else you can think of, the plugin allows you to do all of this, completely hassle-free.
Supports the majority of desktop and mobile browsers such as Chrome, Firefox, and Opera.
Daily analytics report
HTTP and HTTPS supported
Powerful segmentation tools to target a specific group of users
Easy integration with the top e-Commerce providers
Real-time reporting and tracking
GDPR compliant
Subscriber is a free plugin with a limit of up to 200 subscribers. The 
free version
 comes with all of the necessary features, and basic customer support. For the advanced features, the plugin also offers 
two further plans
. $29/month and $99/month for a limit of up to 10,000 and 50,000 subscribers, respectively.
For any business, WordPress Push notifications can offer a highly effective marketing strategy. In doing so, you can send relevant, thoughtful, and timely notifications to your users. And if implemented with care and precision, they can significantly help your business find a better place in the market and grow with ease
Today, we have covered five of the best WordPress website push notification plugins that we've found. Did we miss out on your favourite? Have you ever tried any of these tools? Please let us know in the comments below; we love your feedback!.